Product details:
The product does not include the controller, and the controller is ordered separately.
Precision Motorized Rotary Stage (Worm Gear): PX110-100
Product features:
※ Stepper motor is equipped as standard, which can be automatically controlled by the company's motion controller.
※ The rotating shaft system is precision machined by multi-channel technology, with high matching accuracy, large bearing capacity and long service life.
※ It adopts the worm gear and worm structure with precise research and matching, with comfortable movement, forward and reverse rotation and small empty return.
※ The ingeniously designed air return structure can adjust the air return gap caused by long-term use.
※ The special structural design ensures the low end jump and eccentricity of the rotating table, making the rotating motion more stable.
※ The central through hole of the rotary table has strict requirements for coaxiality with the rotary center, and the central aperture of the rotary table has strict matching tolerance limits, which is convenient for customers to make precise positioning.
※ The scale circle on the periphery of the table is a laser marking scale, which can rotate relative to the table to facilitate initial positioning and reading.
※ Stepper motor and worm are connected through high-quality elastic coupling, with synchronous transmission and good depolarization performance, greatly reducing eccentric disturbance and low noise.
※ The electric rotary table can be used horizontally or vertically, and can form a multi-dimensional electric adjustment table with other types of tables.
※ Limit function can be added, initial zero position can be added, servo motor can be replaced, rotary encoder can be installed, and product restructuring and customization can be accepted.
※ The three-phase stepping motor or servo motor can be replaced to increase the speed and torque of the rotary table.
Structure

Specifications

Model Number

PX110-100

Rotation Range

360° of Continuous Rotation

Diameter of Platform

Ø100mm

Drive Mechanism

Worm Gear

Worm Gear Ratio

180 : 1 or 90:1 (Choose one of the two)

6 Stepper Motor (1.8°)

42BYG - Stepping Motor with 2-Phases & 1.8° of Step Angle

Material – Finish

Aluminum Alloy - Black-Anodized

Load Capacity

45Kgs

Weight

1.7kgs

Accuracy

Specifications

Design Resolution

0.01°, Non-MS Driver;

0.0005°=1.8", 20MS Driver




Rotational Velocity (Max)

25°/sec

Repeatability

0.005°=18"

Absolute On-Axis Accuracy

0.01°=36"

Run-Out of Top Plate

15μm

Backlash

0.005°=18"

Eccentricity

5μm

Lost Motion

0.005°=18″

Parallelization

80μm

Product drawing chart: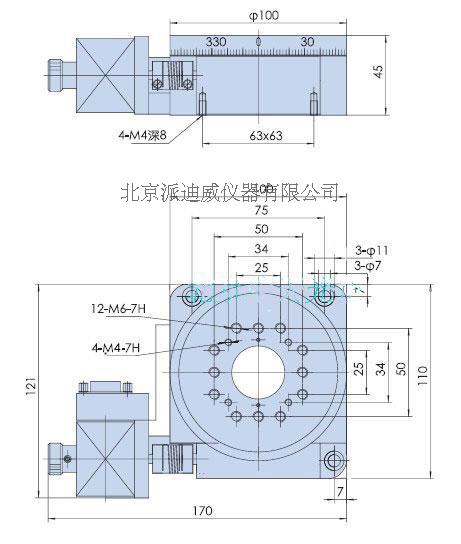 High Precision Motorized translation Stage: PT-GD140G
Product features:
※ Precision ball screw drive, good repeated positioning accuracy and positioning accuracy, small axial clearance and long service life.
※ The guide rail adopts precision linear slider guide rail (square, connected with the bottom plate as a whole), which is comfortable in movement and large in bearing. It is suitable for single axle heavy load or multi axle combination.
※ The fine grinding of the bottom plate of the electric moving table and the reasonable fixing mode of the guide rail greatly reduce the pitch and yaw of the electric moving table, and greatly improve the straightness and parallelism of the movement.
※ Replaceable servo motor and grating ruler for closed-loop control to realize high-speed and heavy load.
Model Number

PT-GD140G-50

PT-GD140G-100

PT-GD140G-150

PT-GD140G-200

PT-GD140G-300

PT-GD140G-400

PT-GD140G-500

Structure

Travel Range(mm)

50

100

150

200

300

400

500

Platform(mm)

120x120

120x120

120x120

120x120

120x120

160x160

160x160

Screw Specifications

Precise Ball Screw (4mm of guide)

Ball Screw (5mm of guide)

Travel Guide

High Precision Linear Slide Rail

Stepper Motor

42(1.8°)

57(1.8°)

Material

Aluminum Alloy

Surface Preparation

Black-Anodized

Load Capacity(Kg)

30

50

Weight(Kg)

2.8

3.4

4.5

5.2

6.3

7.2

8.3

Accuracy

8 Subdivision Resolution(μm)

2.5

3.125

Velocity

20mm/sec

40mm/sec

50mm/sec

Repeatability(μm)

5

Absolute Accuracy(μm)

8

Straightness(μm)

5

6

8

Moving Parallelism(μm)

10

15

20

Pitching

25"

50"

60"

Yawing

20"

25"

30"

Backlash(μm)

2

Lost Motion(μm)

3

5

Accessory

Installing Braking Function (Optional)

Installing Grating Ruler (Optional)

Reloading Servo Motor (Optional)

Installing Dirt Shroud (Optional)
Product dimension drawing: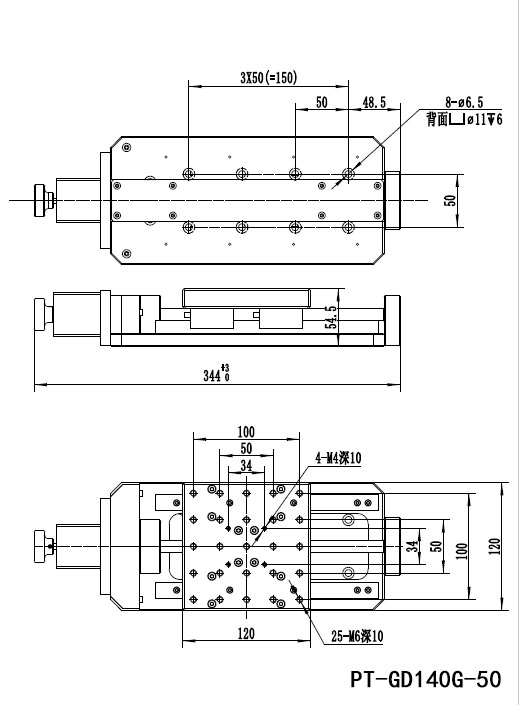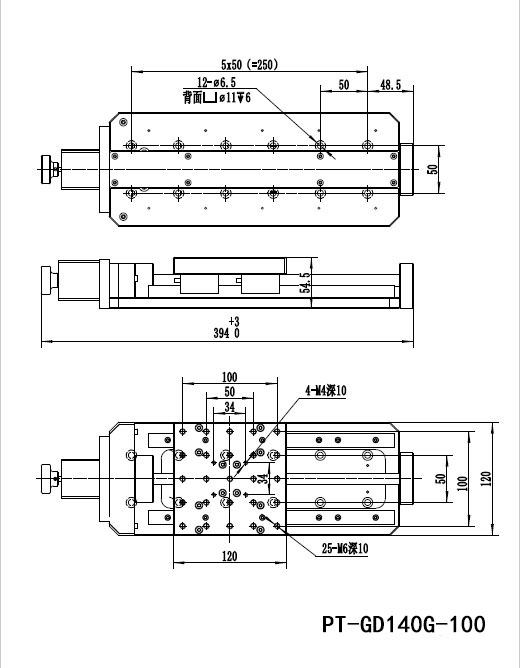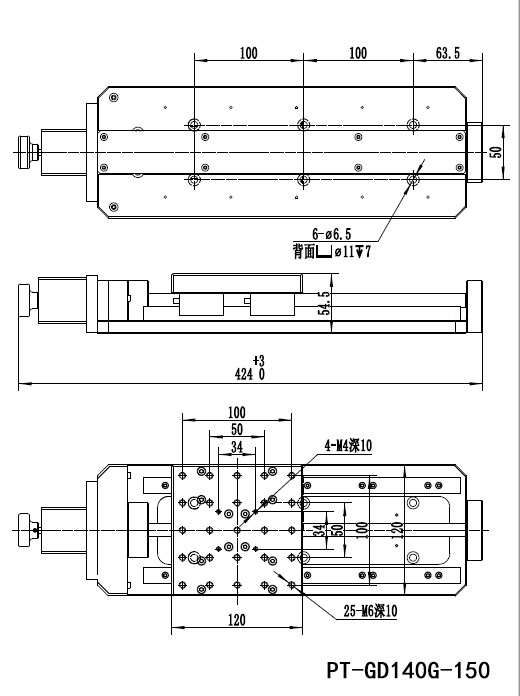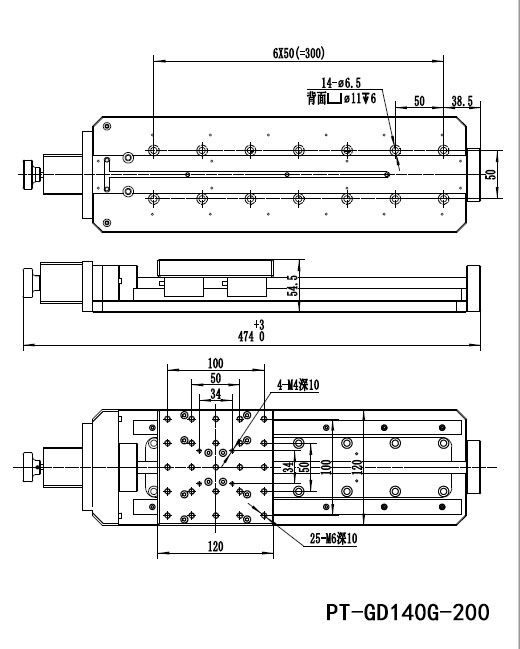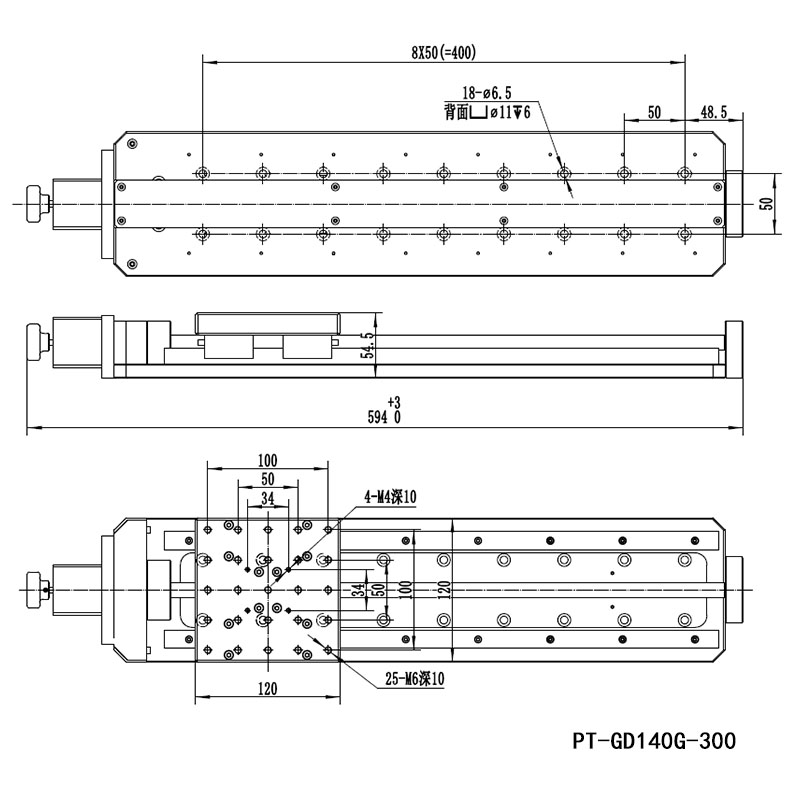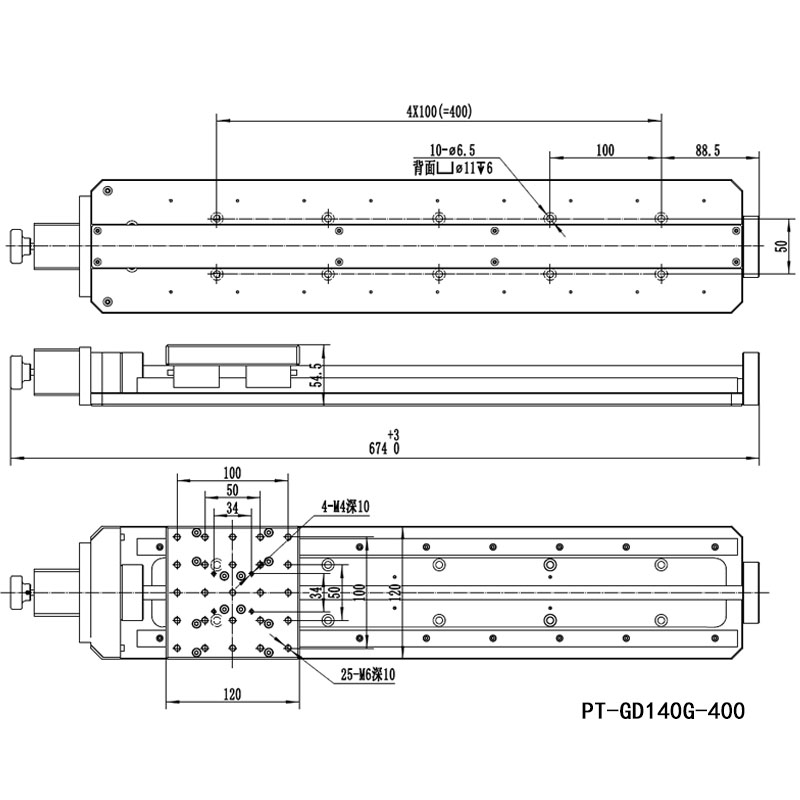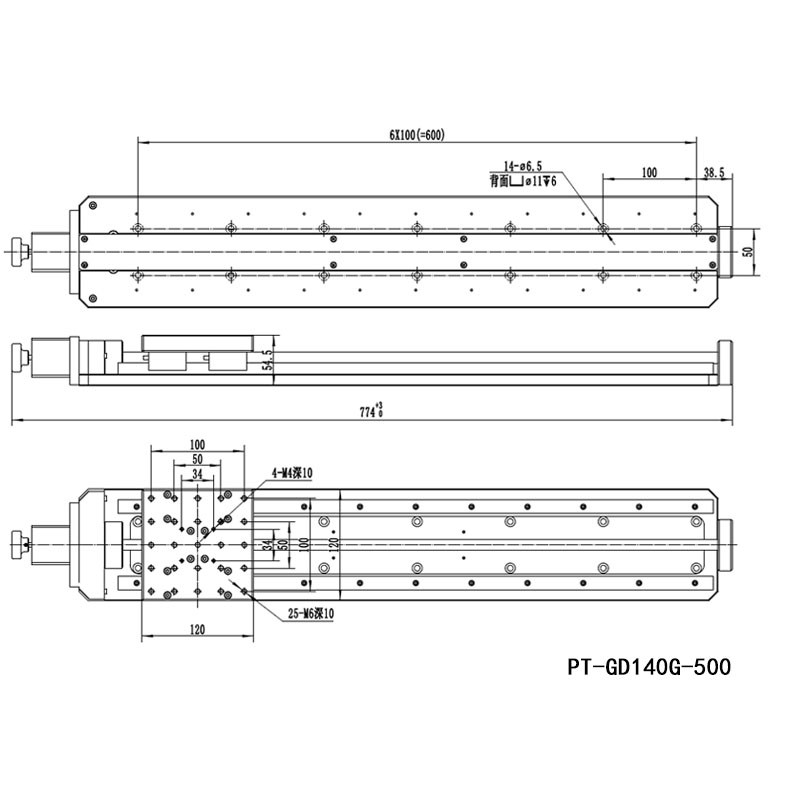 Advantage:
We have Processing equipment: CNC 10 sets, Lathe 8 sets, milling machine 11 sets. We have a group of experienced high-level processing technicians. Our products are sent to the Metrology Institute for random inspection every year regularly and issue inspection report.
Have the industry leading level of the designer, can strictly grasp the product design and processing precision.
We have experienced and skilled assembly master.
Our products from the design concept, the processing technology, the assembly technology omni-directional control.Provide high quality products for users.
If our standard products do not meet your requirements, we can customize them according to your requirements.
Service:
We can ship to you by UPS,FEDEX,DHL,TNT,EMS,other shipping terms can also be arranged according to specific requirements.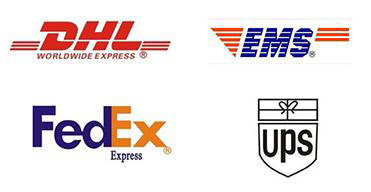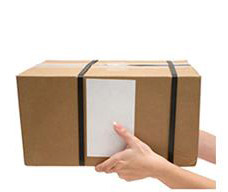 Shipping:
We can ship to you by UPS,FEDEX,DHL,TNT,EMS,other shipping terms can also be arranged according to specific requirements.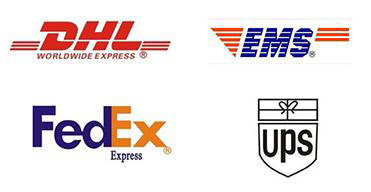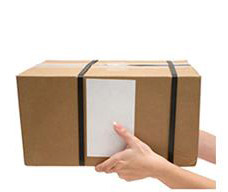 FAQ:
Note:
We are glad that you can cooperate with us.As the journey is far away, please be sure to see the parameters or communicate with our sales when selecting the product, Avoid buying wrong products to delay your use.